Plants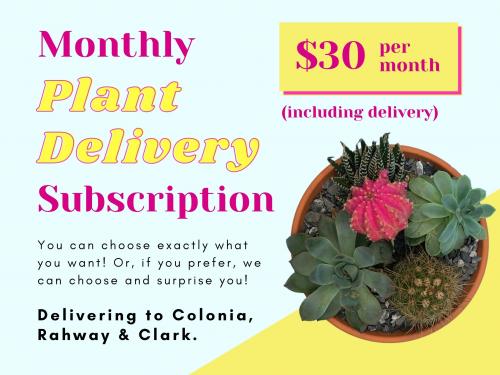 If you love filling your home with plants, our Monthly Plant Delivery subscription is perfect for you! It also makes a wonderful birthday gift for the plant lovers in your life.
We will send out a monthly email before the delivery date, so you can choose the exact plant you'd like delivered that month. Or, we can choose for you and make it a surprise.
With each delivery, you will receive one potted houseplant (either of your choice or a "wild card" selection, as mentioned above). Your new plant will come with detailed care instructions to ensure it lives a long, healthy life. Your plant will be delivered in a ceramic container.
Our monthly emails will include information on plant container options, pet-friendly plant types, sunlight requirements and size dimensions of our available plants.
This is $30 billed monthly. Delivery and service fees are included in that monthly payment. We only deliver to Colonia, Rahway and Clark, NJ. If you live outside of these towns and are interested in subscribing, please contact us by phone (732-382-5253) or email (LakeFlowersNJ@gmail.com).
Ready to sign up for our Monthly Plant Delivery subscription?